I've been in the process of bringing home (or bringing to my storage) many of the things that I've had at my work office for all these years.  It's surprising the things you accumulate.  Among them are objects that I call "desk toys", those oddball knick knacks that you get, which amuse you and give you a moments diversion in the midst of work.
These three little friends have been happily on my desk for some time.
The Red Dragon I got at the Texas Renaissance Festival when I was in Texas in October for my Mother's funeral.  I collect dragons (and in fact am planning a page for the Gallery of my dragon collection, when I get around to putting it together).  I liked it when I saw it, and felt he would be quite at home with my things.
The Red DevilDuck I "won" as a prize in an office Halloween party several years ago.  I forget what for: best ghost story or joke or something.  I like the whimsy of the conversion of the cheerfully innocent Rubber Duckie into the DevilDuck.
The Pirate DevilDuck I got at a pirate shop in the California Bay area a year ago, the Sea Wolf Trading Company.  I was visiting a friend in Fremont prior to attending Mythcon at Berkeley, and she took me to the store.  It was quite a fun place to visit — and spend money.  In fact, another of my desk toys came from there as well.  But that's another picture.  The next picture, in fact.
I'm going to go with a large version of this picture, just for the sake of detail.
On the left up there, of course, is Captain Jack Sparrow, swashing his buckle.  This (and a T-shirt) was something else I bought at the pirate shop last summer.  Next to the right is Sir Bedevere from Monty Python and the Holy Grail.  When I found it at my comic shop, it was not to be resisted.  Next in line is another action figure from the same series, King Arthur.  He was the gift of a former co-worker with whom I share a style of humor.  I'd gotten her Sir Robin, so this was her response to that.  And then on the right end, we have Snake Plisken.  Heh.  I just realized that they are all armed and ready for action.  Guarding my desk lamp.  No one is going to make of with that without a fight.
In front of that lamp, you can see a pewter dragon who's got his claws into the cloak of a fleeing figure.  Now, the store didn't have any particular name attached to it, but if you consider that the fleeing figure is carrying a crystal, and his feet are furry on the top and bare on the bottom, I think it's a safe bet that we can call this Bilbo with the Arkenstone fleeing from Smaug.  At least that's how I think of it.
At the very bottom of the picture, those small stuffed animals are sitting on top of the CRT Monitor of my old tower PC.  It still has its uses.  The black bear is one I got in New York City when Jeopardy! shot there in 2002.  The blue bear is from UC Berkeley, and their conference center, from one of the Mythcons held there.  The lion is just a lion … when he's not being Aslan, of course.
One of the things about many of my desk toys and knick knacks is that they are chosen as mementos of various trips.  Which brings us to the next picture.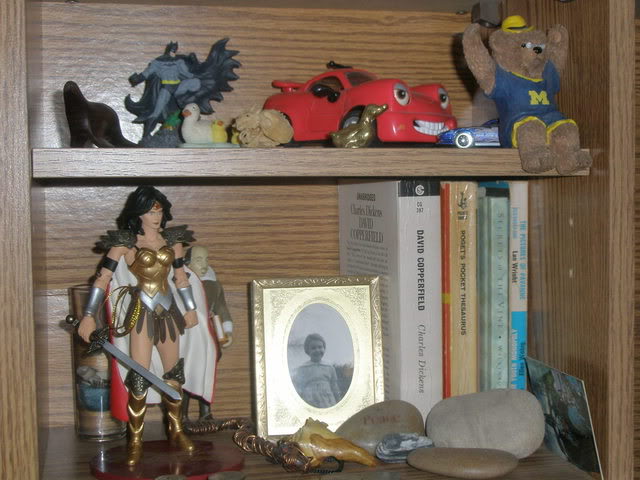 On the upper shelf, from left to right —
A carved wooden seal.  I'd bought it on a Premise retreat in Ventura (on the beach), but to remind myself of an excursion my screenwriters group had taken about five months earlier.  We'd gone down to San Diego to the Wild Animal Park, and on the return, we'd stopped for lunch in La Jolla.  At the public beach there, behind a breakwater, a group of seals had taken up residence.  I guess they liked the sheltered beach as much as humans did.  They were drawing quite a crowd that day, and the lifeguards were keeping the humans well out of the range of the seals.  The beasts were quite large and indifferent to the fact they'd invaded human territory.  I suppose a good beach is a good beach, when you're a sea creature that weighs several hundreds of pounds.
In the background of that shelf is a mini-figure of Batman. Just because.  Because Batman is my favorite superhero.
In front of Batman is a little figure of a mother duck and a couple of ducklings.   I got this to remind myself of … well another Premise retreat.  But that one was at Arrowhead Springs.  That site had a pond near the entrance, and there was a duck family in residence there.  As we left the site, my driver (I'd gotten a ride from a friend of mine) stopped to feed the ducks, because he wanted to.  I enjoyed the moment, suddenly taken back to my own childhood where we would go to one park and feed ducks fairly often.  The spontaneous and un-selfconscious way my friend went about this action shook something loose in me, something that had gotten over-controlled down the years.  So I bought this duck figure to remind myself of spontaneous pleasure, particularly in the small things of life.
In front of the ducks is a tiny carved dragon I got at ComicCon last year (yes, another of The Collection).  To the right of him is a brass duck my father gave me years ago when I was in college.  I don't know where he found it, or why he picked it up for me: he never said.  But I think it was a rememberence of those Sunday afternoons feeding the nibblers bread.
Behind them the Chevron Red Car is something I picked up the year I drove to Denver for Mythcon.  I got it at the start of the trip, and the car I had then was a burgundy red.  Little did I know in setting out that that trip would be quite an adventure — of an overheating car that kept stalling out across the hot desert and over the Rockies in the highest of Colorado freeways (Interstate 80), all the way to Colorado Springs. Turns out the thermostat was dead.
The blue Hot Wheels in front of the Red Car is a Mustang.  I got it to remind me of my dream car (which I still have).  I'd always wanted a Mustang, and I've had Baby since 2000.  Baby is green, however, not blue.  The bear with the blue and yellow outfit, I got in Ann Arbor two years ago, when Mythcon was there.  I love Ann Arbor.  If we'd not moved from Michigan when I was 16, I think I probably would have gone to college at the University of Michigan.
On the second shelf, in the far back left corner is a candle in a tall shot glass that I got at the Fox Studio in Rosarita Mexico, when the screenwriters group had a weekend excursion down there.  We'd toured the studio, and saw the display from the filming of Titanic.  That was a fun weekend.  In front of that is an action figure of Donna Troy as Wonder Woman.  (If you don't know DC comic book characters, it would take too long to explain.)  Behind her is my Shakespeare "action" figure.  He holds a book and a quill pen.  The photograph is of me at age three — a picture I often use as an avatar on LiveJournal.  Books, I don't need to explain those.  But in front of those are various objects.  A question mark made of copper wire, made for me by my nephew John for Christmas about five years ago.  The small conch-like shell I got in Grenada when I was there in January 1995 with my Mother.  We'd made the trip with my cousin Janet, because a school that my grandfather (my mother's father) had founded was celebrating its 30th anniversary.  It was quite a trip, and worth a longer description, which I may make someday, somewhere.  And then the stones.  Two of them were party novelties from a friend, one says "Peace" on it, the other "Imagine".  The larger stone on the right, I picked up on the first retreat of the screenwriters group I'd gone on, when we'd gone up to Cambria near Hearst Castle.  The beach there was rocky, and this stone was rounded by the rolling waves and fits in the palm of my hand very comfortably.  The smaller black and white stone was given to me by my friend Ellie Farrell, something she brought back from Tintagel in Cornwall. Very Arthurian.
And how could I forget my newest?
The Stuffed Sherlock, I got at the Writers Store recently.  Of course, peeking up into the bottom of the photo is the top of a small piece of original art I bought recently — I haven't had a chance to get it framed yet, so it's right there over the desktop.  Artwork by James A. Owen.
I like my desk…. the objects can take me far away in time and space when I need a little break from whatever I'm working on.
Come on over to the MESSAGE BOARD and talk about your own desk toys (or what you think of mine).