Yesterday, I had to drive down from ranch to Yreka, California, in order to take care of the smog check for my car, needed for the annual registration. It was overdue, because I needed to wait for available time and money to come together.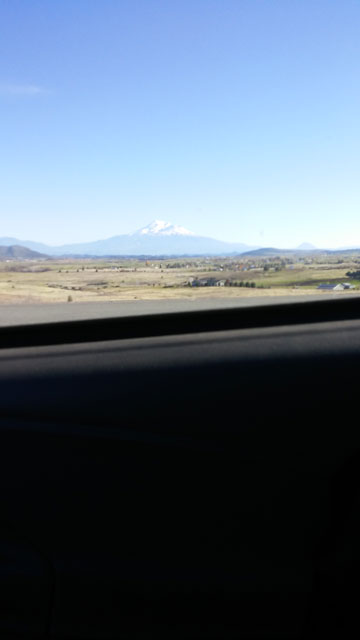 Last week, I had almost driven down on Friday, expecting to just drive up to the smog check station and have it taken care of in fairly short order. And then I remembered my original research for locations in northern California, and recalled that there were very few check stations in the area. So I called the station. Good thing. They had no available time slots on Friday. So I made an appointment for Monday, at 1:30. I figured that since the internet told me the drive time could be a hour and a half, I needed to give myself a cushion.
I got on the road by 11 in the morning. The day turned out to be clear and sunny, which was nice after several days of high overcast that gave the world a dull, muffled atmosphere. Once past Medford on the southbound journey, I really enjoyed the scenery. Especially when I crossed into California.
You see, on my original journey into Oregon, much of the northern California region had been wrapped in the haze from a wildfire in the Shasta region. It had obscured all the far vistas. So I had never even glimpsed Mount Shasta itself on that trip.
This time, coming down a slope, there's a spectacular view of Mount Shasta in the distance. I really wanted to stop and get a picture of it. But unfortunately, the lookout turn-off was blocked off due to roadwork on the freeway at that point. Boo.
So instead, I had to quickly snap the above picture with my smartphone on the return journey. It made for frosting on the cake of a successful and satisfying excursion (meaning the car passed the smog check with no problem, and the registration got taken care of promptly).