On Sunday, I went to an exhibition of photos taken by my friend Norris Archer Harrington. It was his first real exhibition, but you wouldn't know that by the quality of his work. The exhibition was held downtown at LA Artcore in Little Tokyo.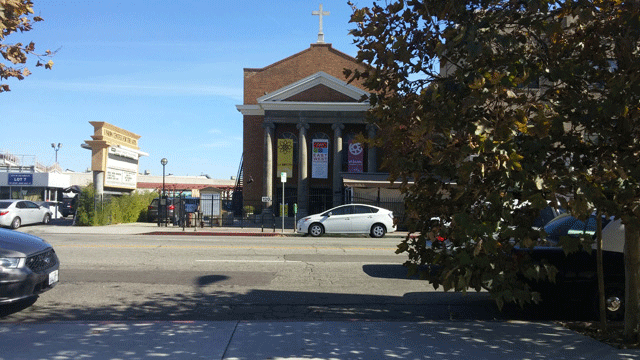 Norris is the husband of Barbara Nicolosi, who I've know for a considerable time. Since they got married, I had not really had much occasion to get to know Norris except in passing. Then three years ago, I was going to be house-sitting for them during Thanksgiving, so I went to their place a day or two before their departure.
It was simple courtesy to try and get to know Norris better. I knew that he was a former Navy man. So I asked after his other interests, and he mentioned photography. I grew up with a family of amateur photographers, some pretty good ones. My grandfather loved taking pictures, and my father did also – to the point of doing his own developing frequently. My brother was/is an avid photographer (going to the point of getting himself a Nikon), and his son Justin has really taken to camera work. Me, I have dabbled with photography, almost entirely with "cheap" snapshot cameras. So, I felt I knew at least a little bit about photography.
Looking at Norris' photos was … startling. It was like having been out in thick, odoriferous air and stepping into a chamber of fresh, clean, cool air. Breathtaking. Norris has a natural gift for composition. He likes shooting (older) settings that most people would easily overlook. But he makes the viewer see surprising beauty in these settings. Indeed, the title for his exhibition is "Hidden Beauty."
Many of Norris' photos are presented in black & white (okay, greyscale). That often highlights the composition of his pieces – like the "Night Bridge" photo above. But when he chooses to feature color, it is usually to let some detail stand out.
The photo he used for the Exhibition invitation does that. The red doors in the midst of the shadow have a satin-like quality in their color.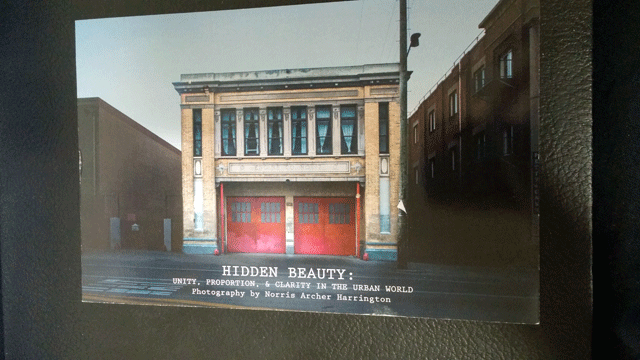 Alas, my photo of the invitation doesn't capture that effect — that's the problem with taking photos of photos, or in this case, glossy postcards.
Anyway, it was really a pleasure to see Norris' work being shown off in a gallery – and getting the appreciation his work deserves. I hope this is just the start for him, and that more exhibitions and opportunities come his way.