One of the things I've discovered as I've gone along, training and pushing myself as a writer, is that the best work is done when I have to push myself. If a project intimidates me a little bit, I have to dig deeper to deliver something good. And this is a valuable quality in rising to challenges. If the work comes too easily, you may not be doing your best with it.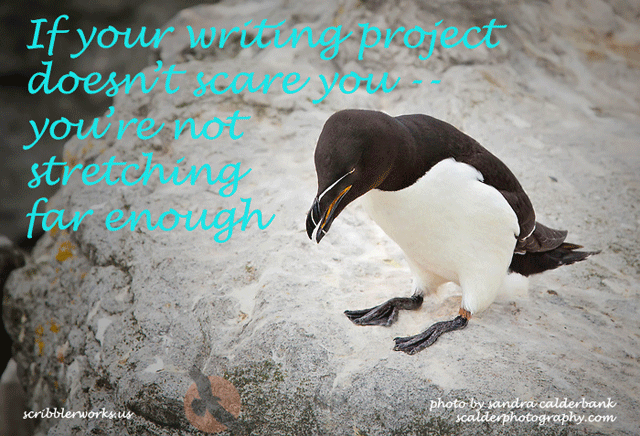 I've done this in a big way several times over the course of my life. The first time it really struck me was as an undergraduate, my senior year. I had a heavy course load, and on a Friday was facing the need to deliver a paper for a Shakespeare course come Monday. The problem was that although I'd prepared a general outline for the paper and knew the points I wanted to make, I could not get my brain to focus on actually writing the prose. At the time, I had taken to spending Friday evenings on campus (I commuted from home each day, car pooling), ostensibly to do extra work. Unfortunately, it was frequently the case that by Friday evening I was brain-fried. So it was this particular weekend. I really wanted to get the paper written, but just could not get it to gel.
It just so happened that two words I wanted to use in the introduction rhymed. The words hung there in my brain, chiming together. So I gave in, and composed a couplet to convey the idea I wanted with them. In iambic pentameter. And it turned out to be a pretty good couplet. So then I wondered, "Can I take this further?" I tried another couple of sentences for the introduction in iambic pentameter couplets … and they worked.
Then the scary idea hit me — why not try to write the whole paper (excepting quotes from the play in question) in rhyming couplets? This was a completely insane idea for a college paper. But it seemed the only way I could get my brain to tackle the problem of the paper. So away I went. And I did it. (And when finished, the fact that it was rhymed couplets seemed to beg for something other than plain old typed fonts – so I used my best calligraphy and wrote the thing out on sturdy paper in ink.)
The paper was sound enough in its argument. The professor was a bit floored (and amused) by the presentation of it however. She admitted that there wasn't much she could say to it, since it was something of a tour de force. She did question a few rather forced phrases I'd used for poetic purposes, but that was more a critique of the poetry than the discussion.
It's not a solution to writer's block that I'd recommend to everyone. But the point of this little story is that by making the out-of-the-box decision to write the paper in verse, I both challenged and scared myself into writing a better paper than I might have done otherwise. When you let your writing projects and ambitions scare or alarm you a bit, so long as you don't run away from them, you may end up producing remarkable and excellent work. Try it!
Photo by Sandra Calderbank – scalderphotography.com
Used by permission