In 2011 I wrote some verses in response to a review of Orson Scott Card's book Hamlet's Father. Card's revisionist presentation of the Prince of Denmark isn't quite the traditional sort of Bowdlerization that takes out "offensive" material. In many ways, Card's retelling increases the offenses, as his King Hamlet is a pedophile.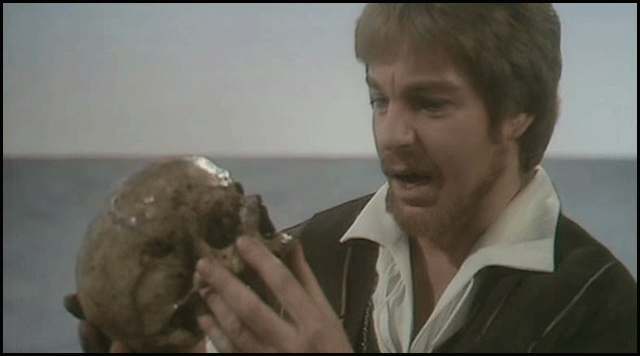 Of course, given that Shakespeare himself borrowed from other sources and recreated stories from previous works, it's rather inconsistent of people to become offended at people reworking Shakespeare. I'll admit to being interested in such reworkings myself, and am quite fond of Akira Kurosawa's Shakespeare adaptations. I've seen Throne of Blood, his version of Macbeth. The Burnham Wood sequence in Kurosawa's version is a truly awesome moving forest. Also his Ran, a masterly adaptation of King Lear. I haven't seen his adaptation of Hamlet yet. It is set in modern Japan, with Toshiro Mifune in the Hamlet role.
The thing is, most adaptations and retellings of Shakespeare tend to stay in tune with what the Bard created. His sensibilities about human nature are generally insightful and reliable, which is why we keep returning to them. But from all the descriptions of Card's handling of the Hamlet material, it would seem that he just doesn't "get it."
Card has said that he can't identify with a waffling character. And many have interpreted that as being the heart of Hamlet's problems. But I think there's a larger issue at hand, a metaphysical one.
Hamlet's dilemma rests upon the conflicts between worldly demands of justice and the spiritual strictures of a Christian faith. Now, Shakespeare's play is not explicitly preaching a Christian outlook, but it is deeply woven into the fabric of the play. Hamlet finds the world "stale, flat, and unprofitable" to the degree that he wants out of it, having no joy in what he sees around himself after his father's death. But God has "fixed his canon against self-slaughter." Suicide would separate the Prince from the presence of God — and this is a serious consideration for Hamlet.
Our modern world has come quite some distance from behaving as if we genuinely believed that the supernatural dimension, the spiritual dimension of the presence of God, was immediately effective (never mind believing that it is real – which it would seem that many do not hold to be true). To me, it seems that for those who do still regard the spiritual dimension and God's presence as important, the focus is mostly "I am precious to God." Yes, we give attention to the concept of bringing others into fellowship with the Lord. But do we really consider the connection the way Hamlet does?
When he finds Claudius praying alone, he almost uses the moment to take his revenge. But Hamlet stops himself, because Claudius is praying, and at that moment might indeed be repentant and so within the Grace of God. The Prince's object is to bring about Claudius' fall at a moment when the King is in an unrepentant, sinful mode, which would guarantee the departure of Claudius' soul to Hell, rather than the presence of God.
But none of these considerations seem to have touched Orson Scott Card in his rewrite of the story. He structures it around the idea that the dead King Hamlet was a pedophile who had molested the young men of his court when they were children. Where Card drew this idea from, I have no idea. While it is easy to believe that the sycophants Rosencrantz and Guildenstern are probably a gay couple, and to believe that Horatio may have a fixation of some sort (requited or not) on Hamlet, I have no idea why he thinks Laertes would also be gay (especially since Laertes is looking forward to risqué adventures with loose ladies in Paris when he gets there).
To me, the tenor of Card's version of the story exemplifies Ophelia's description of the prince himself: like sweet bells jangled, out of tune and harsh. It's not somewhere I want to be.