Yesterday, on Facebook, someone posted a link to an article about a dessert confection – ice cream filled doughnuts. When I followed up on the article, I learned that the emporium that provided the delectations was actually located in west Los Angeles. So I made the decision to give myself a treat to see what they were like.
B Sweet is a desserts shop. When I got to the address, I actually missed it the first time through, as the area has been recently gentrified — new apartments have been planted in an area that used to be small industrial businesses (I think). The small shops along the street have been converted over to boutique eateries and stores. Parking is at a premium, metered, and not very bountiful. But second time around, I found the shop (I was looking on the wrong side of the street, the first time round).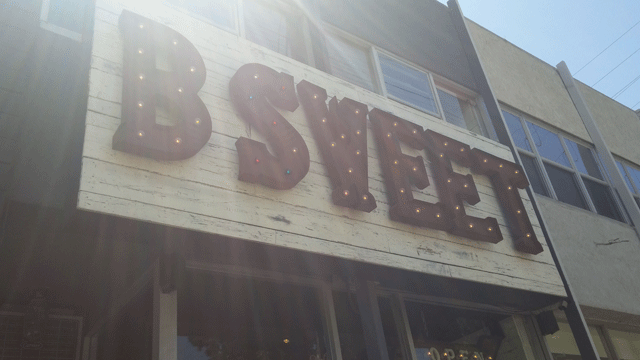 When I went into the place, I found the décor to be practical, open, and charming. The staff were very friendly.
I think I beat the afternoon rush, as there were no other customers when I went in. But as I enjoyed my Halo (the shop's name for the ice cream filled doughnut), several other customers came in. Hardly surprising, given today was one of the hottest days in a while in Los Angeles.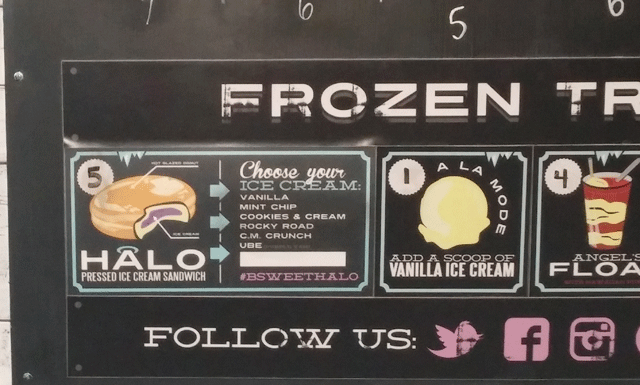 The doughnut they use is a yeast-raised doughnut with no hole. Then they give you the options of choosing the type of ice cream you prefer.  I watched as they prepared my order, and it seems simple enough.
The doughnut is sliced in half like a bun. A single scoop of ice cream is placed on the lower half, and then the upper half it set on it. Then the concoction is placed on a press-grill  – to compact the sandwich and to give the doughnut a bit of warmth. It's only in the grill for a few seconds.
The result is similar to an ice cream sandwich – but with a doughnut instead of a sugar wafer or cookie. Because of the pressing, the ice cream has been softened and gets drippy. So you don't want to linger over it. But other than that — it's a very nice treat.