When I was working at Jeopardy!, in 1999 we did our first road-trip to New York City, to tape a series of games at Madison Square Garden. At that time, I had been writing a number of letters of comment to various DC Comics titles, especially those overseen by the Batman Group Editor, Dennis O'Neil. A few years previously, I had written Denny about what he had written back in the early 1970s on Green Arrow. It was research for a paper I was writing on Robin Hood and Green Arrow. His helpfulness on that prompted me to write him in the DC offices and ask if he or any of the editors were interested in VIP tickets to the tapings. As it turned out, nobody else took up the offer. But Denny and his wife Marifran were fans of the show, and delighted to accept the offer of tickets.
That was when I first met Marifran. She was sweet and delightful – and it was obvious that Denny was over the moon for her.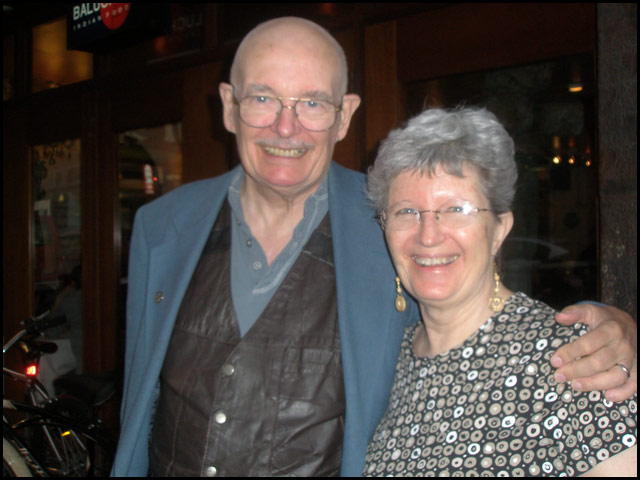 When I visited NYC in 2008, I had a lovely dinner with them near my hotel, at an Indian restaurant. Watching the two of them together was a pleasure. They had a gentle teasing way between them.
In 2010, Denny was a guest of the San Diego Comic Con, and I of course saw the pair of them during the convention. I had stayed at the Marriott Marina Hotel that year (a splurging treat to myself), and had decided to stay over Sunday night. Monday morning I went down to the restaurant for breakfast, and who should I encounter there? Denny and Marifran. So I got to have breakfast with them, when there was very little schedule pressure on how quickly we got through our meal. I thoroughly enjoyed their company.
She will always live in my memories as a bright, sparkling personality, utterly charming. She delighted in the banter she and Denny engaged in.
So it made me very sad to learn that she had passed away yesterday. I am so glad that I got to know her, even in the little way we had.