I provide a number of services to writers: editing, consulting and coaching. Everyone wants to get their manuscript into tip-top shape before either sending it to agents and/or publishers, or publishing it themselves in some form or other.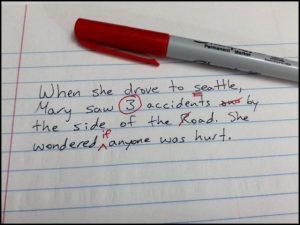 I love storytelling in all forms and value the unique voices of writers of all sorts. I believe that there is space for each writer – so long as their work is of the best quality. My object is to help each writer I work with shine to the best of their ability. If I say I love something, I'm not trying to flatter you. But I will be straight-forward about criticism, and will explain why I feel something is not working for you. I try to always keep in mind your stated objective in your work, so that no matter what my reaction is, I keep you pointed toward your goal.
If you are looking for help in polishing your skills at various types of writing, I'm here to help you along the way. Screenplays, comic book scripting, prose or poetry, if you want to hone your writing, I can sharpen your edges.
EDITING
Editing consists of my giving your work a read-through for necessary corrections for clarity. This can cover everything from basic proofreading, line editing, deep editing with notes, even formatting editing.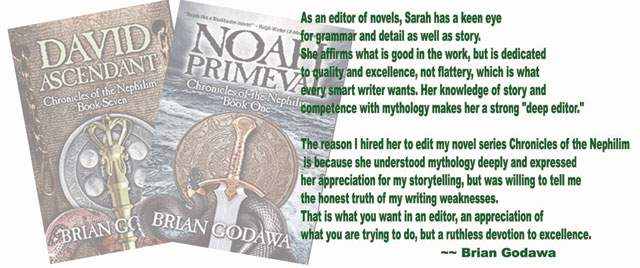 WRITING CONSULTING AND COACHING
Consulting consists of my giving your work a thorough read-through, and giving you notes on the work. We'll then do some follow-up discussion on the notes. The discussion can be by email, IM chat or phone, depending on our schedules and availability.
Coaching consists of the above services, but for 2 drafts of your work, rather than one.
For script notes/consulting (one draft of the work)
Feature scripts:
TV drama scripts (no sit-coms):
Comic scripts:
Other prose: Fiction and non-fiction, any genre
Poetry
COACHING
Script notes/consulting and in-depth discussion (two drafts of the work)
For coaching the price is $10 less than double the consulting fees.
SPECIALTY NOTES
Although the above services cover the usual writing critiquing (structure, characterization, style), I can also provide analysis of mythic content. Beyond the Hero's Journey matters, I can help you with Character Archetypes, Time & Season motifs, Landscape motifs, Thematic issues. If you're interested in these aspects, please let me know when you make your initial contact.
STARTING OUT
If you want to take advantage of my services, fill out THIS FORM and email it to me at consult@scribblerworks.us
(Print the form as a PDF and attach it in an email to the above address)
When emailing me, please let me know the following:
(1) Your name and email address
(2) The nature of the work you want reviewed (novel, feature or comic book script, etc.)
(3) The word count of prose works; the page count of scripts of any sort
(4) A general description of the work
(5) Whether or not you are working on a deadline
Remittance is due upon agreement for submission. The usual practice is half at commencement of the job, half upon delivery of my final notes. Payment methods can be discussed, but PayPal is the preferred means..
Recommendations:
"I will say that, as a writing teacher, you've pushed me harder towards excellence and given me more useful and straightforward criticism than any other writing teacher I've had – and I majored in English and completed the coursework for an MFA in Creative Writing in Fiction…." – Sean Crymble.